And so, inspired by the Aurora Bistro dinner, I attempted the goat cheese apple crumble, because it was Valentine's Day and my Main Distractor loved it so.
My recipe was basically cobbled together. I used about 4 Granny Smiths because I wanted that tartness and firm texture. So peeled, thinly sliced…about 1/8 inch thick. I used a square pyrex dish, cooking-sprayed or use butter.
I used two of those small logs of soft goat cheese, melted into about 3/4 of a cup of milk and a cup of cream, a little salt, a very little pepper, a tiny bit of nutmeg, and I threw a largeish sprig of thyme into the pot while it heated up and simmered to reduce, keep stirring so it doesn't stick.
I started out the dish with a layer of cheese sauce on the bottom, then layered apples and sauce, making sure I had sauce to put on top.
Then I topped it with my crumble stuff: 1 cup oats, 1/2 cup flour, scant 1/2 cup sugar, bit of salt, mix that up then add a quarter pound of softened butter and mush it up with your fingers till you get chunky bits.
I baked it uncovered at 350F for around 35 minutes; it was still quite liquid. It did much better the second day, when I had heated it up again in the oven. So I can say rather to keep it in for an hour, or else add less milk/simmer it until it's more of a béchamel than a clam chowder thickness.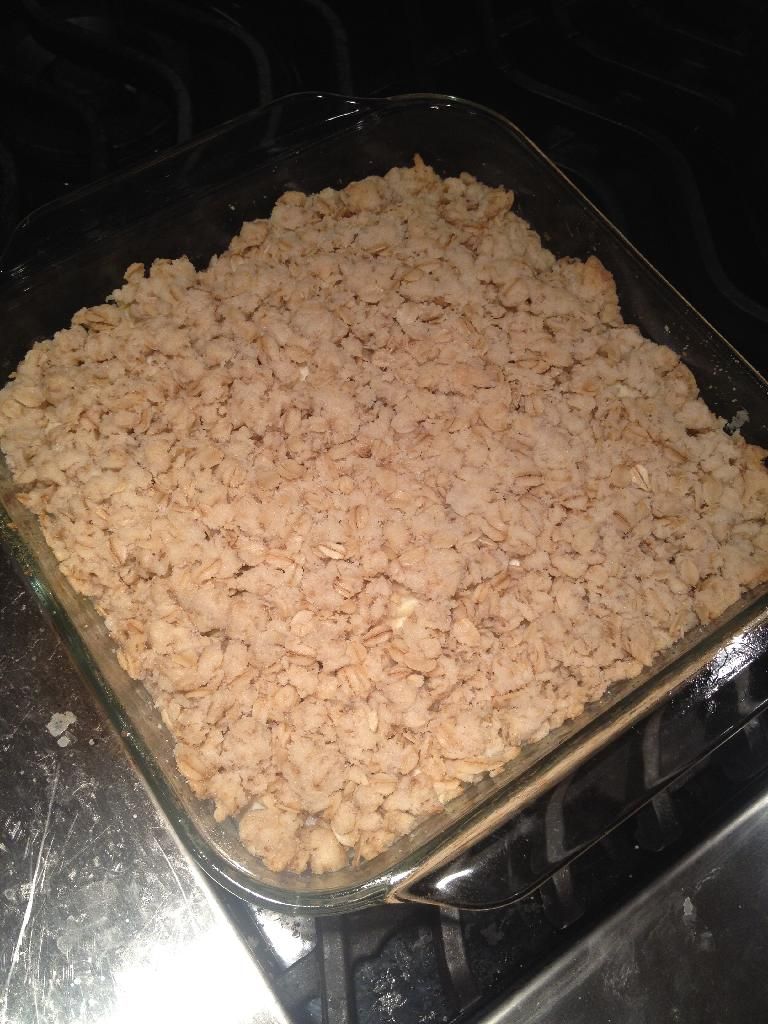 It's a tasty item; a little sweet, and a little savoury; very suitable for dessert if you don't want anything too sweet. I think it would be great as dessert with a caramel sauce, maybe, too. But it also would not be out of place with meat or poultry as a main course.